Family Fun with Rocks and Pebbles!
Looking for a easy and fun activity for the kiddos? Watch this video & download the template to make your very own picture!
Download the Line Art Family Printable!
Add your name and email to download the printable!
Wasn't that fun? Let's

play,

learn,

sing

and laugh together again. Join us for

Rock

Art

Camp

today! Details below.
Rock

Art

Camp

Online!
ART CLASSES & MINDFULNESS Play
Enjoy feelings of joy, connection, and wonder while creating giftable art with nature's pebbles & sticks.
Kids Love It!
Who's Using Rock Art Camp?
Parent-child connecting time
​Homeschooling Families
Children looking for after school activities
​Grandparents wanting to connect with their grandkids
​Pre-Schoolers
​Elementary School
​Ages 4-8 is our sweet spot, but children ages 3-16 have loved the course! Parents who join in discover an inner artist they didn't realize they had.
Do you want a sneak peek inside Rock Art Camp?
Here are snippets from a few of our videos. Click the link below to register your child for Rock Art Camp.
What NASA's study tells us about creative genius and pattern matching...
What's Included in the Complete Rock Art Collection: (all camps included Family, Birds, Dogs and Cats)
Duration: 5 Weeks with over 12 hours of video content, 39 videos (or take as long as you like to complete the course)
​Frequency: Every Week Day (25 classes); up to 30 minute video classes each day.
On Demand: Because it's recorded, you can do the classes at your own pace.
Ownership: 6 month access. Repeat the classes as often as you like.
Camp Activity Book: included is a 52 Page Digital Activity Book. (Printable)
​​Printable Badges for each rock art achievement
​Mindfulness Exercises every week
​Self-Regulation Skills Modeling
​​Positive Affirmation Training
​​Private Facebook Community Group for support, ideas, sharing, and fun.
Price Includes: All children in the same family for the price of one!
​Supplies: Rocks found in nature are free! But we do suggest a few supplies to make it more fun such as paper, markers, canvas boards and tac--all easily found online.
Age Range: Ages 4-8 is our sweet spot, but children ages 3-16 have loved the course! Parents who join in discover an inner artist they didn't realize they had.
Click To Purchase Rock Art Camp Collection
Why Mix Rock Art With Mindfulness?
Hear Patti's Personal Story
Learn Mindfulness While Learning Rock Art!
This interactive Camp experience will be focused on creating Furry Friends from rocks. Four different creative projects each week will be infused with positive affirmations and mindfulness skill development through stretching, breathing, visualizations and more.
If you have more than one child who wants to participate, you can get them in for FREE! The price below includes all siblings within the same household.
Why Rock Art?
Turns on Creativity

​Calms Anxiety

​Offline Play

​Outdoor Inspiration

​Connect the Whole Body

​Discover new Imaginative

Games

​Make Free Gifts

​Express Feelings without Words
Nature Art Calms Anxiety
Research has found that, "interacting with nature can improve overall mental health, decrease stress, and improve ADHD/ADD symptoms in children and youth aged 0 - 18 years... and evidence that it can boost resilience, combat depression, and enhance health-related quality of life in this population."*
"My 4 year-old has never been more focused! He LOVES doing rock art with Patti." Oliver's Mom.
Parents Get A Break
Everyone needs a break. Let Rock Art Camp inspire your children, learn a new form of creative self-expression, and enjoy the calming influence of nature art all while you kick up your feet and take a break!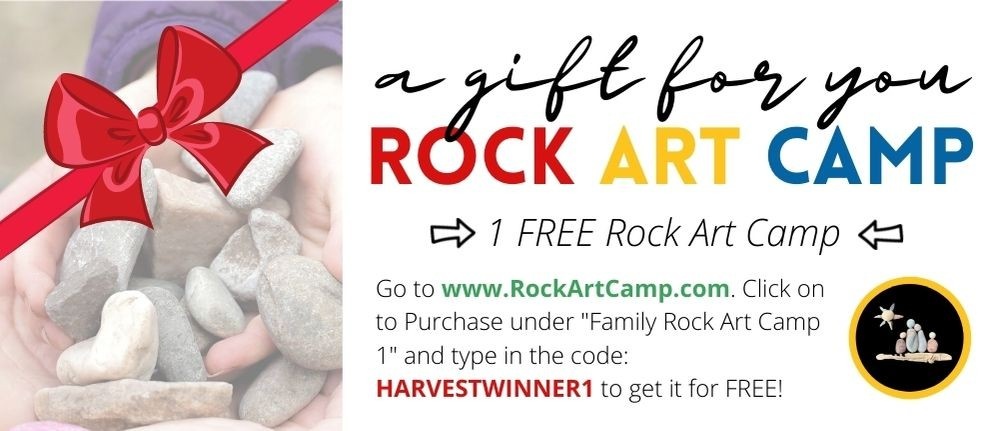 Makes a Perfect Gift
Give the gift of creativity and inner peace. All ages enjoy finding rocks in nature, and bringing them home to tell stories and make gifts for others.
Classes can begin at their convenience which makes it a great gift idea for birthdays, Christmas or just to give something fun to your child, grandchild or any other child in your life.
We provide a beautiful gift certificate you can customize and print out.
You Get It Everything
for just $49!
Includes 39 Videos (over 12 hours of content)
52-Page Camper Activity Book
** Debut Discount good for a limited time, RESERVE your child's spot today! ** (Total value $249, that's over 80% OFF!)
Click Here to Purchase
Where Do I Find My Rocks?
Rocks are everywhere once you start looking! Here's a short list of places:
Walks, Hikes, Back Yards, Neighborhoods, Vacations, Nurseries, Landscaping Rock Yards, Adventures, Mountains, Streams Rivers, Lakes, Oceans, etc.
"I find a handful of useful rocks every time I go for a walk." - Patti Rokus
No Rocks??? No Problem! We'll help you use cookie dough to make the shapes needed.
Rock Art We Will Create at Camp:
Families
Birds
Dogs
Cats


YES PLEASE!

Reserve My Child's Spot for the Furry Friends Rock Art Camp RIGHT NOW!